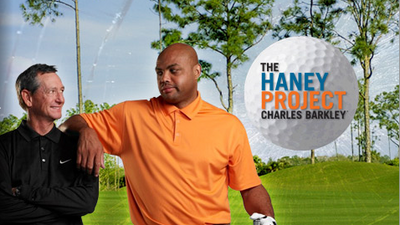 I recently watched the Golf Channel's new reality show- The Haney Project: Charles Barkley. In this series, Hank Haney, Tiger Woods's swing coach attempts to fix the horrifically bad golf swing of Charles Barkley.
The first episode where Hank Haney is introduced to Charles Barkley was one of the funnier things that I've seen on TV. Charles Barkley is his typical class clown self, but serious in trying to work out his swing. Hank Haney is a serious instructor, but more than held his own with his own sense of humor. Between clips of bad Barkley golf shots, an imitation of Barkley's swing by Tiger Woods, and non-stop banter, you have a pretty entertaining show. The show is scheduled for 7 episodes, so we'll get to see how Barkley progresses.
One thing I got out of watching this is even more admiration for Tiger Woods. Hank Haney asks Barkley if he's like to do a Tiger Day. A Tiger Day is pretty much 12 hours of golf, hitting balls, and working out. Tiger's extremely talented, but his hard work ethic and discipline is what separates him from everyone else.
Charles Barkley was in Cincinnati last month for a show at the Cincinnati Convention Center and I ran into him at salsa night at Havana Martini. As a personality/celebrity, he's pretty approachable and quite friendly. Maybe it's a little character rehabilitation for all the troubles he's recently created for himself.