Monthly Archives:
October 2009
NYTimes.com: European Farmers Protest Fall in Milk Prices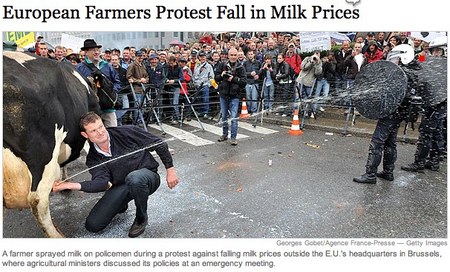 That's some impressive aim and distance.
NYTimes.com: Trail of E. Coli Shows Flaws in Inspection of Ground Beef
Ground beef is usually not simply a chunk of meat run through a grinder. Instead, records and interviews show, a single portion of hamburger meat is often an amalgam of various grades of meat from different parts of cows and even from different slaughterhouses. These cuts of meat are particularly vulnerable to E. coli contamination, food experts and officials say. Despite this, there is no federal requirement for grinders to test their ingredients for the pathogen.
It's hard to eat ground beef after reading this story.