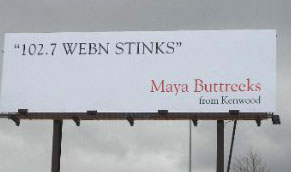 Here's some truth in advertising!
Looking at this WEBN billboard, it looks like WEBN has changed its strategy and is now targeting the 4-7 year old demographic. When you tune into 102.7, do you now get the Wiggles?
Ha ha, Maya Buttreeks. That's some shocking, knee slapping humor for you. The variants of this sign are equally yawn inducing.
For a small step up in humor, visit the Simpson's Guide: PHONE CALLS TO MOE'S
Mike Rotch! Mike Rotch! Hey, has anybody seen Mike Rotch lately?