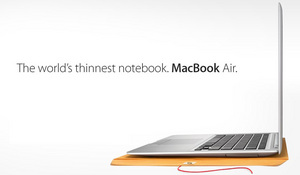 The MacBook Air, so thin you can put it into a manila envelope. But, why settle for any manila envelope when you can put it in
ManilaMac's
, Airmail Manila folder notebook sleeve.

The AirMail laptop sleeve is handmade out of durable upholstery-grade vinyl, and lined with fuzzy, soft fleece. All AirMail sleeves have the same dimensions as standard interoffice manila envelopes, which will serve to remind you — and everyone around you — that your new MacBook Air really is the thinnest laptop in the world!
It's $29.95 and I'm kind of tempted to get one just to put things in that I don't want getting scratched.