The beauty of the iPod Nano is its tiny size, but the tradeoff in smallness is that it's a lot easier to misplace. I've had it disappear into a fold of my computer bag for several weeks before I found it again. That time I really thought I lost it so I purchased another from Apple.
Last week, I lost my first iPod Nano again. I checked my bag but it wasn't in the secret hiding spot as where I lost it before. I was annoyed at misplacing it, but having a spare Nano means that find the first one wasn't a pressing issue.

Well, Saturday it popped up, while I was taking my clothes out of the washer. It must have gotten stuck in there with some gym clothes.
If you ever drop an electronic device in the washer or the toilet, the first thing you need to do is NOT turn it on to see if it works. Repeat. Do not turn it on.
Dry the thing off as quickly as you can with a hair dryer or heater if possible. If you can open it to dry, the better. Even after you've finished drying, it you should probably let it sit for a few more days to make sure it's completely dry.
Mine was in a neoprene case, but when I took it out of the case, it was definitely wet. After some swearing and kicking of myself, I wiped the iPod Nano down, but since I don't own a hair dryer, I ended up just putting it in a sunny window for about 5 days.
Today, I decided it was time to see if it worked, plus it would give me material for my blog this morning. I plugged it into the iPod dock and immediately the Apple logo showed up. It worked! That's the good news. The bad, there's a couple of dark splotches on the edges of the screen. You can see a blob next to the play arrow on the top left of the screen. Maybe, those will go away over time, but if it doesn't, it's not too bad and I can live with it.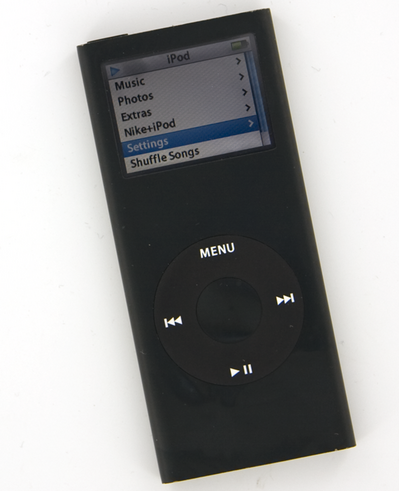 UPDATE: A few days after the picture above, the iPod completely dried out and there are no splotches on the screen. The iPod takes a bath and looks like new!