I recently received a coupon in March from Duke Energy for a box of six free 13 watt compact fluorescent bulbs redeemable at Walmart. Duke Energy is promoting it as a way to save money and to reduce electrical demand.
Duke-Energy.com: Take a Simple Step to Save Energy and Money
If every Duke Energy OH customer receiving this offer installs six CFLs, our customers will save the amount of energy needed to serve 14,800 homes.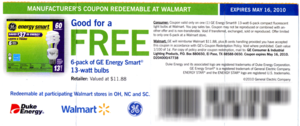 Unfortunately, these bulbs are nowhere to be found. I've driven to two different Walmarts and they're both out of stock of this specific pack with no substitutions allowed. While I was there, I saw two others carrying coupons looking for the bulbs too. I checked with my parents and they've been to two other Walmarts in the suburbs and they're out of stock too.
So, how exactly are we saving energy with Duke Energy customers driving around trying to find these energy saving light bulbs? It seems like Walmart and Duke Energy should have been better coordinated with Walmart to have ample stock of these bulbs.
I checked on the Duke Energy site and there's a FAQ and one of the questions is:
Q. What do I do if Walmart is out of bulbs?
A. Increased inventory levels and additional reserve stock will be available to participating Walmart stores. If your store is temporarily out of stock, check back within one to three days when inventory has been replenished.
Just drive back to Walmart and check for bulbs in one to three days!