DailyMail.co.UK: KFC introduces 'sandwich' with buns made of CHICKEN instead of bread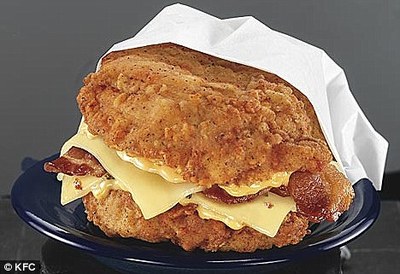 Thank goodness health care reform has passed, because KFC has issued a new challenge to the hearts of Americans everywhere. It's the Double Down, your personal Exxon Valdez.
The Vancouver Sun newspaper estimated that the sandwich clocks in at an artery-clogging 1,228 calories – far above the 540 calories that KFC claims it contains. The grilled option comes in at 460 calories.
…
But nutritionists are more concerned that the Double Down contains 1,380 milligrams of salt and ten grams of saturated fat. That is 60 per cent and 50 per cent respectively of the U.S. government's recommended daily intake.
Is the notoriety and free publicity that KFC is getting worth the unhealthy label that comes with it?