Got my Battlestar Galactica: The Complete Series
Blu-ray box set from Amazon today. Here are my unboxing photos.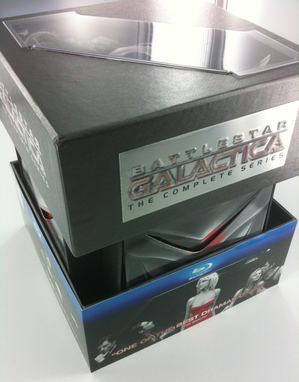 The box top slides up to for access to the boxes for each season.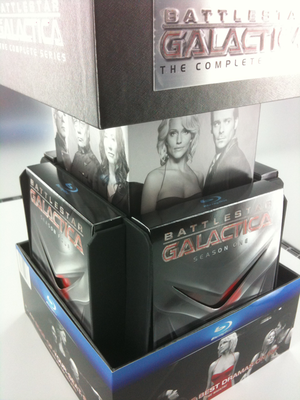 The boxes are simple cardboard boxes with a flap held closed with velcro. The discs slide in between cardboard dividers. Seems a little cheap to me. I would rather have traditional DVD cases where the disc can be held in place. I'm a little afraid that the discs might get scratched sliding them in and out.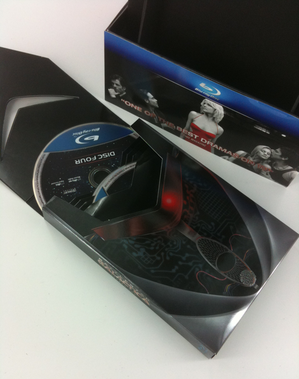 On the top of the box there's a poseable Cylon Centurian.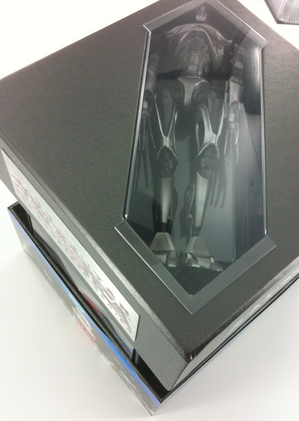 It's a cool looking box, but the packaging is kind of bulky and not really too practical for storing discs. I'll probably end up putting the Season boxes in my A/V cabinet and the big box in storage.
UPDATE:
Started watching part of the first season last night. The quality of the on screen menus are a huge improvement over the DVD's. The picture quality is sharper that the DVD but BSG was shot with a film-like style with grain keeps it from looking like the sharpest Blu-ray movies. Bright scenes like on Cloud Nine in "Colonial Day" are crystal clear with lots of detail. The deleted scenes are still in standard definition.