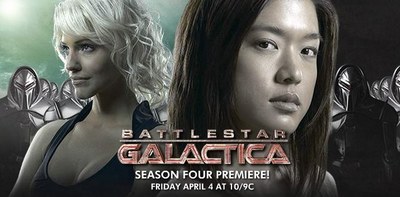 Battlestar Galactica Season 4- the final season begins on April 5, 10PM. SciFi Channel is currently running a Battlestar Galactica marathon in HD that threatens to fill up my DVR. Last night I caught Kobol's Last Gleaming, a two parter from Season 1. The first five minutes are some the best moments you'll find on television. This is the first time I've seen it since it originally aired and it totally captivated me again. Kobol's Last Gleaming is only the 12th and 13th episode of season 1 and already the characters are multifaceted and the numerous plot lines are setting up events that are just taking place now.
I can not wait for Season 4 this Friday!
UPDATE: It turns out that not all the episodes are in HD. Season 1 is all letterboxed. I think I must have recorded Kobol's Last Gleaming on the Universal HD channel not on SciFi Channel.