I apologize for the comments section not working properly this last week. I've been flooded with comment spam. I've had spam issues before, but this time the number of spam comments started affecting the server load.
I've added a reCaptcha which asks you to type in the two words to prove you're human.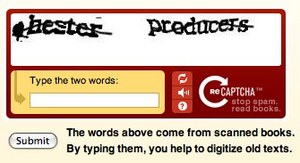 But, how are you helping to digitize old texts?
From the reCaptcha website

Books have been scanned, but the computer's OCR sometimes can't recognize the words like a human can. reCaptcha uses these digitized words as the the two words that you have to type in.
But if a computer can't read such a CAPTCHA, how does the system know the correct answer to the puzzle? Here's how: Each new word that cannot be read correctly by OCR is given to a user in conjunction with another word for which the answer is already known. The user is then asked to read both words. If they solve the one for which the answer is known, the system assumes their answer is correct for the new one. The system then gives the new image to a number of other people to determine, with higher confidence, whether the original answer was correct.