UPDATE: January 16, 2010. It's time for my annual renewal of MobileMe. Instead of renewing MobileMe for $99, I purchased MobileMe Individual (Updated 2009 Version)
at Amazon for $72.49 with free shipping.
If you're interested in signing up for MobileMe to use the iPhone's new Find my iPhone feature, buy it from Amazon and save money.
Apple charges $99 a year for a single user. Instead, buy MobileMe

from Amazon for $67.89! What you get in the MobileMe package is a code for MobileMe as shown in the picture below. This is for both new users AND renewals. Buying MobileMe from Amazon is like getting a $31.11 coupon off MobileMe!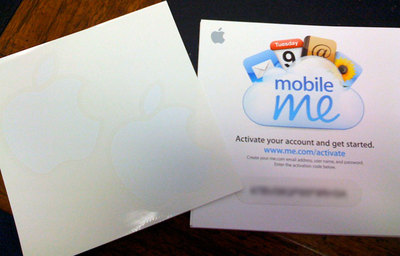 The family pack is also cheaper on Amazon the MobileMe Family Pack
is only $119.99 vs. $149 when signing up with Apple. The MobileMe Family Pack [OLD VERSION]

is slightly cheaper- $116.50 and since it's just a code, it should work exactly the same.