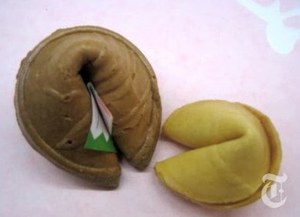 From the NYTimes.com: Solving a Riddle Wrapped in a Mystery Inside a Cookie
Her prime pieces of evidence are the generations-old small family bakeries making obscure fortune cookie-shaped crackers by hand near a temple outside Kyoto. She has also turned up many references to the cookies in Japanese literature and history, including an 1878 image of a man making them in a bakery – decades before the first reports of American fortune cookies.
This story certainly seems to solve the mystery of the origins of the fortune cookie.