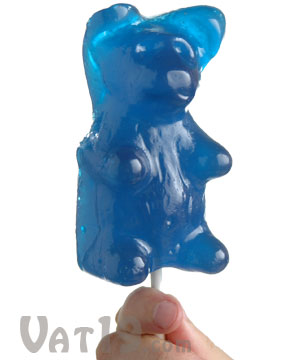 Candy lovers rejoice! The Giant Gummy Bear on a Stick represents the most delicious candy confection that man has ever produced. Hand made (with gloves on) in the US, the Giant Gummy Bear is 88 times larger than a standard gummy bear. Each Giant Gummy Bear weighs half a pound and comes on a stick for easy, mess-free snacking.
I'm kind of tempted to get one as a Secret Santa present. I'm sure gag gifts represent a huge percentage of their sales.
In college a few friends and I decorated the dorm room door of one of the girls on our floor with small gummy bears. If you bite off the back of the bear, the soft innards have kind of a glue-like consistency that allows the bear to stick. I can imagine what it might look like if we had these super-sized gummy bears.