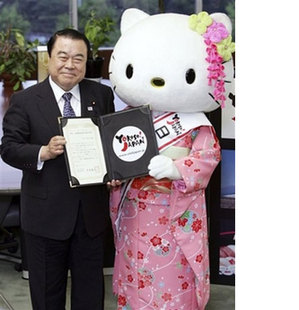 From CNN.com: Hello Kitty named Japan tourism ambassador
Hello Kitty, Japan's ubiquitous ambassador of cute, has built up an impressive resume over the years. Global marketing phenom. Fashion diva. Pop culture icon.

Now the moonfaced feline can add "government envoy" to the list.
Why is Hello Kitty settling for tourism ambassador? We should hire her to finish out George W. Bush's term. She'd probably do a better job getting the Saudis to pump more oil, bring peace to the Middle East, and finding Osama bin Laden.
Reaction from Hello Kitty Hell.