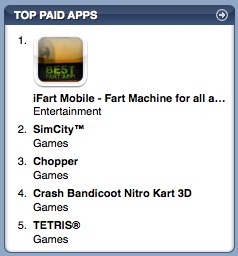 With all the applications on the iTunes App Store, what's the number one paid application on December 23, 2008? It's the iFart Mobile– Fart Machine for all ages.
iFart Mobile is a Digital Sound Machine and entertainment system which brings endless laughs and enjoyment to its users. Combined with more usefulness and functionality than some other popular applications, iFart has a built-in security system designed to surprise and discourage iPhone theft, as well as a "Sneak Attack" function ideal for pulling pranks on parents, children, friends, teachers, workmates and employers alike.
The reviews are pretty much what I'd expect…
(1 star) Super lame, don't sound real at al
(2 star) Waste of a dollar, machine generated sounds
(1 star) I tried and tried and this prank does not fool anyone. The fart sounds are way to fake.