It seems strange to be recommending a furniture store for some tasty and cheap food, but if you're hungry and in West Chester, Ikea's cafeteria style restaurant isn't a bad bet.
I was doing a little furniture shopping yesterday after work and I thought I'd grab a quick bite to eat.
The cafeteria is very bright and clean and amazingly enough, completely furnished with Ikea furniture. It has a nice ambiance and not crowded at all. The weeknights at Ikea are not busy so the line for food was very short.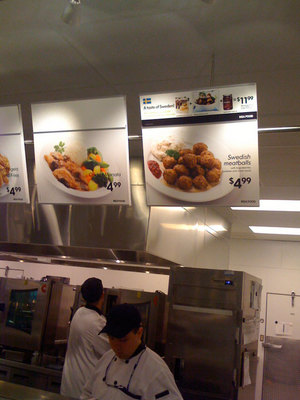 There are quite a few choices of meals to choose from with most being only $4.99. The most popular dish seems to be the Swedish meatballs. Almost every tray that I saw had one of the Swedish meatball platters on them. So, I too chose the Swedish meatballs platter and an apple cake and a drink. All for less than $10.00. The meatballs come with mashed potatoes and a lingonberry sauce.
The Swedish meatballs are smaller than you'd think from the picture but quite tasty. They have a slightly dry and crunchy exterior like they had been deep-fried. That's probably the secret because everything tastes good when they're deep-fried! The meatballs come with a gravy that also works well with the mashed potatoes. The ligonberry sauce tastes pretty much like cranberries but not quite as tart.
I apologize for the pictures of my half eaten meal. That's just a testament of how good the food is.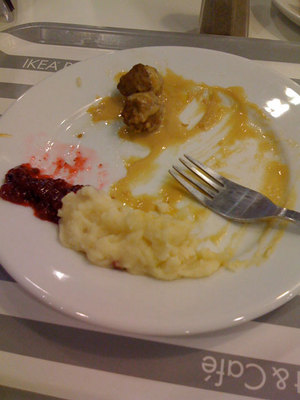 For a drink I recommend the Ligonberry juice from the fountain. It's not carbonated and not too sweet. The apple cake was good too, only $2.29 for a slice.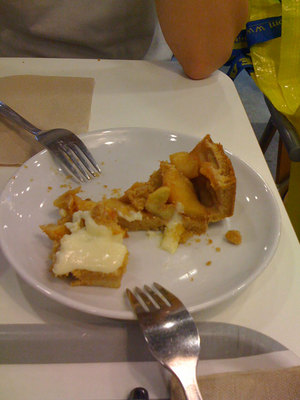 It took me a few seconds to figure out where to put the tray when I was finished. The area to put tray is slightly walled off, but is marked with a sign. You place your tray in racks just like in college!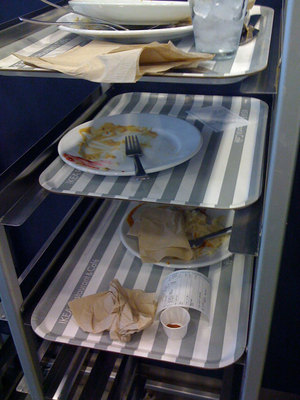 I'll have to stop back for their .99 breakfast! Review of the $.99 breakfast to come! 🙂