UPDATE: Jeff Ruby's Tropicana has announced that it's closing in June.
I was at Jeff Ruby's Tropicana at Newport on the Levee last night meeting a friend. It's salsa night at Tropicana on Thursdays, so I've been there a few times over the last six months. My friend and I agreed that the decor is really looking dated and the place is starting to get a little rundown looking. The business seems good, so it seems like they could afford it, but it seems like Jeff Ruby has his eyes somewhere else. You always hear about Jeff Ruby as a great restaurateur, but great restaurants are built in the details.
The bar chairs in particular are a ratty mess. It's a real embarrassment- I wouldn't even let someone over to my place if I had a chair that looked like that, let alone charge someone $8.00 for a drink. Here's a picture of one chair, but a lot of them look like this: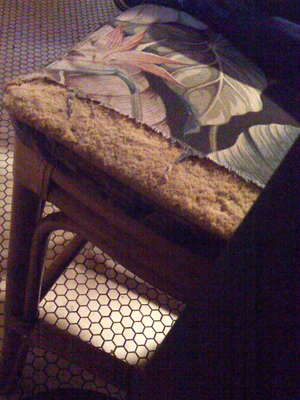 Here's a picture of the decor. Kind of cheesy looking. Sorry for the quality of the photos, it was pretty dark for the iPhone.