Another "too cool" product from VAT19.com
It's Mini Gummy Bear soap! You don't get how cool it is until you see it in a soap dish! Probably not a good idea if you have kids!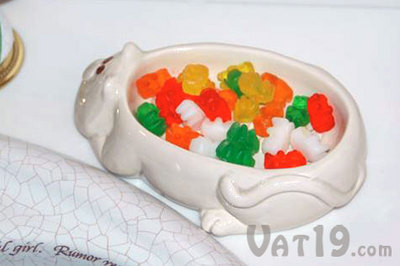 From the description:
Your package features twenty-five Gummy Bear soaps that are the same size, shape, and smell as the real candy treat. You will receive five each of lime, cherry, lemon, orange, and pineapple-scented Gummy Bears. If you have the time, line them up in rows to create your very own little Gummy Bear army. Hey, we had fun doing it.
Buy it VAT19: Mini Gummy Bear Soap
See also- Giant Gummy Bear on a Stick