Due to population decreases, Ohio has lost two seats in the House of Representatives forcing changes in Ohio's districts. Ohio's state government, dominated by the Republicans have gerrymandered the districts to strongly favor Republicans.
Here's the old District 1, Steve Chabot's district. It seems reasonable geographically, covering Southwestern Ohio.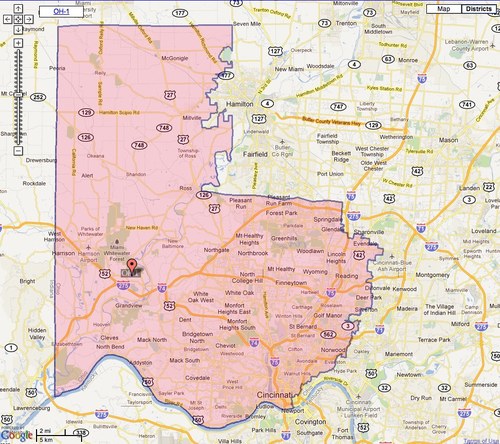 Here's the new District 1 that was passed by Ohio's congress yesterday.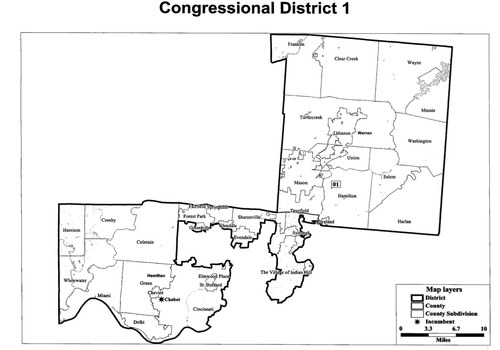 The new district is a convoluted mess which makes no sense geographically. But politically, by adding suburban areas of largely white voters and subtracting predominantly black neighborhoods by pushing them into District 2, the Republicans have neutralized the urban and black vote that leans more Democrat in District 1.
Just looking at race, on this mashup map that I created of a population map by race of Cincinnati from 2010 census data and the new district, you can see that the Republicans have divided the black population into District 1 and District 2.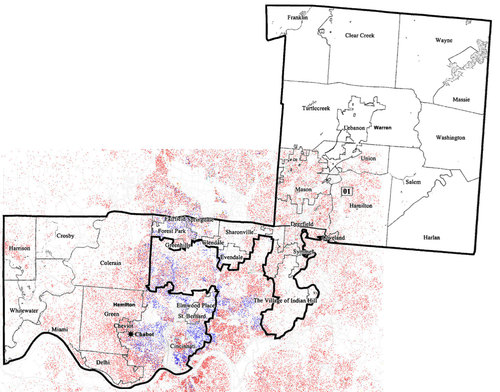 By doing this, the Republicans have created a mishmash district with mismatched groups of urban and suburban voters. How is a representative to effectively serve this disparate group? Effective governing doesn't seem to matter to Republicans, just keeping the power of the Congressional seats. Cincinnati as the largest population center in the region should have a representative advocating the needs of the urban core and inner ring suburbs.