I seem some pretty bad deals on print art on eBay, but this is one of the worst ripoffs I've seen in a while.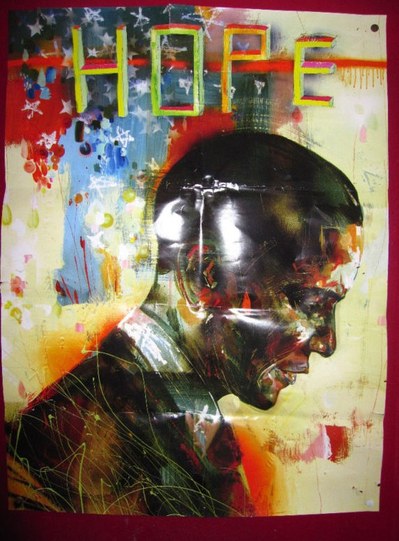 This David Choe print is one of my favorite Obama posters from 2008 and I've been looking to pick one up since then- but definitely not this one. For a a mere starting bid of $849, this looted paster print can be yours:
This is a print of the Obama Hope painting by famous artist DAVID CHOE. Around the election in 2008, I was in New Orleans (which is where my family lives) on vacation, my brother in-law is a HUGE fan of David Choe and found out that they had posted some of these posters on broken-down buildings in New Orleans. (He had heard that either David Choe himself or some of David Choe's family members were posting these exact posters) We drove to a part of town where there was a couple of these posters on a building. I took this one as it was less torn than the others. There are some small rips on the edges, which is understandable as it was out in mother nature. This poster is 18″x24″ inches in size. This is the last time I'm putting this on ebay, I lowered the price dramatically as I need to sell this to pay for our rent since we lost our jobs a while back!
Also, there is a white glare on the poster from the flash of the camera. THIS IS NOT ON THE POSTER ITSELF!
I love this poster and I love David Choe, but I'm resorting to selling this, some of my other personal belongings and my other paintings (Check out my other items!) because we recently lost our jobs.
The white glare is not there, but the folds and tears are real. I can't imagine anyone every buying this print. For comparison, a mint limited edition of this print has been going for $400-500.