I had intended on watching the Presidential Inauguration over a live stream from CNN Live, but that was a pretty miserable failure. CNN Live was overwhelmed and failed to connect to the stream most of the time and when it did, it was a stuttering mess. MSNBC was just as bad so I ended up watching the Inauguration the old fashioned way- on my 24 year old 9 inch Color TV. And on FOX News! Normally, I'd rather watch a turned off TV set than FOX News, but this was the only station that I could get clear reception over the air. It wasn't too bad in this situation since the talking heads were quiet during the actual swearing in and inaugural speech.
With the coming digital transition for TV, this will most likely be its last hurrah as it's not worth getting a digital tuner for a 9 inch TV.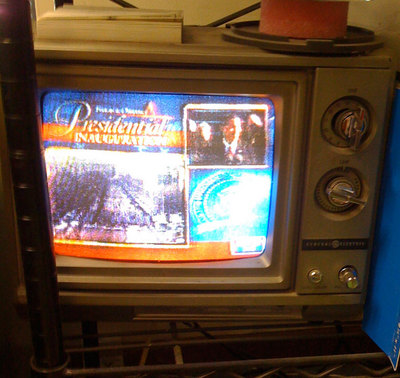 As a size comparision, a 9″ tv screen is the same size as the original Macintosh screen. I wonder how many of you have actually seen an original Macintosh screen?