I finally made it over to the new Ikea in West Chester last night. I've always been a big fan of Ikea, but I have always been limited to buying little things that I can fit in my car along with my other road trip luggage. But, now with Ikea here, I can look for larger items like furniture, bookshelves and storage organizers.
I had an hour to kill yesterday so I made the 5 minute drive over from my office. Yes, it's only 5 minutes away from my office. I've just been a little hesitant about driving over there because of the crowds that I've seen it generate.
But, I guess it's only a place to be avoided now on the weekends. If you want to go to Ikea and avoid crowds, go on a weekday night, especially if it's 75 degrees and beautiful outside.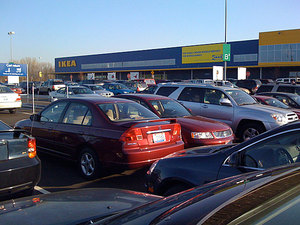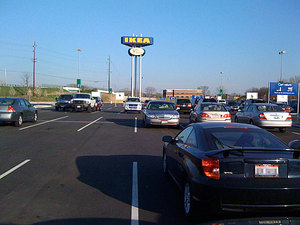 The parking lot was pretty empty. More cars than your normal store, but the fewest that I've seen in front of any Ikea. There were a few customers, but a ton of helpful staff. And zero lines at the cash registers.
The thing that I like about Ikea are the example rooms that are set up all over. It's useful to see how an item can be used in a room. What's helpful is that the same piece of furniture may be used in different rooms that have different looks.
However, I didn't see this bed in any of the example rooms. How am I supposed to get my "bachelor" pad looking right without some ideas? Maybe, I'll have to just talk to one of the Ikea workers. Stay tuned!