From Boston.com: Propaganda of the year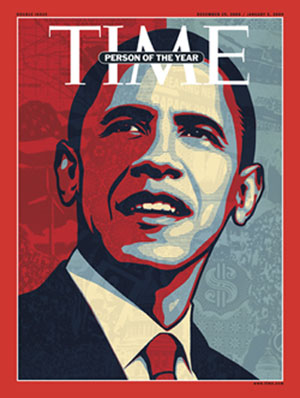 Barack Obama is Time Magazine's Person of the Year and for the cover they've chosen a new Shepard Fairey work.
"Our cover portrait is by the street artist Shepard Fairey, whose roots are in the skateboarding world and whose early poster of then Senator Obama became the great populist image of the campaign," editor Rick Stengel writes in his opening letter. "With this cover, Fairey has now created a new iconic image of the President-elect — a rich, multilayered poster that echoes but then expands on his original."
The piece by the Boston Globe, Propaganda of the year, disagrees with the selection of Fairey's work for the cover saying:
Not only has Time abdicated a journalistic opportunity to freshly interpret Obama's significance in visual terms, but it outsourced the work to the campaign itself: the graphic equivalent of headlining an Obama profile "Change We Can Believe In."
I don't think we're missing a whole lot from Time's interpretation. Most likely we'd have yet another photograph of Obama on the cover. Time's already done that- Obama's picture has been on the cover of half of Time Magazine's covers this year! The Shepard Fairey image captures the spirit of the campaign and the idealism behind the movement that put Obama in the White House.
Shepard Fairey created his original Hope work on his own without involvement of the campaign because he felt strongly about Obama and what he stood for. This idea is mirrored by the many who volunteered and donated their time and their efforts to the Obama campaign.
I am a huge fan of Shepard Fairey's work which I found through his Obama posters. I would love to add this print to my collection when it becomes available. I think in many ways this new image is a more sophisticated, realistic portrait than the iconic Hope poster.
UPDATE 12/19: Added Time.com: Icon-maker Shepard Fairey