UPDATE 2/21/2010
SHEPARD FAIREY CINCINNATI LINKS:
Photos I took from opening night of Shepard Fairey's Supply and Demand Exhibition.
Photos and locations of Shepard Fairey's outdoor art installations.
New blog entry and info about Shepard Fairey's Supply and Demand Exhibition in Cincinnati.
Cincinnati Contemporary Arts Center: Shepard
Fairey's
Supply and Demand Exhibition opened Friday, February 19, 2010 and runs through August 22, 2010.
Original Article from April 14, 2009
Via Arrestedmotion.com: Shepard Fairey "Supply & Demand" Museum Retrospective to Travel
It is reported by Arrestedmotion.com that Shepard Fairey's Supply and Demand retrospective is coming to the Lois & Richard Rosenthal Center for Contemporary Art in February 2010. Not yet announced on the Contemporary Art Center website, it is said to arrive after traveling to the Andy Warhol Museum in Pittsburgh.
Shepard Fairey is a renowned street artist who rose to national prominence during the election with his iconic Barack Obama Hope artwork. Visit his website at ObeyGiant.com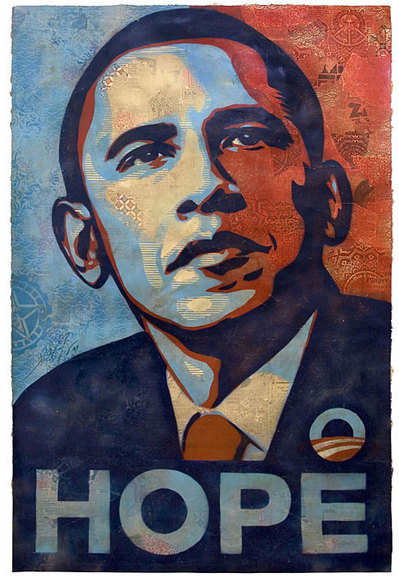 I am a big fan of Shepard Fairey and I am very excited that this show is coming to Cincinnati. Perhaps in conjunction, we'll see a Shepard Fairey street art installation somewhere in the city. Preferably legal installation as I don't think a confrontation with the Cincinnati Police would be a good for Cincinnati's image.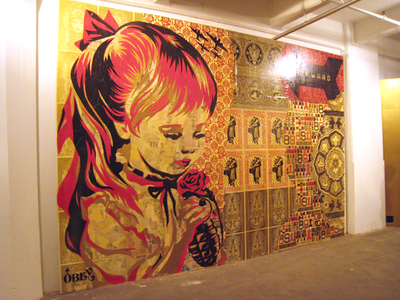 Pictures of Shepard Fairey's Supply and Demand Exhibit at the ICA/Boston