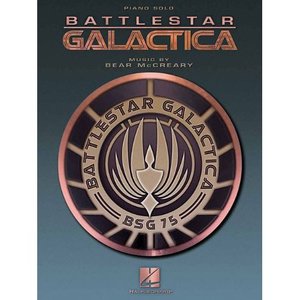 I started taking piano lessons when I was in the 2nd grade and for the next 7 years it was classical pieces learned for my lessons and bad pop/rock arrangements for fun. Since then, however, the piano has taken a backseat to the violin which I actively play in a community orchestra.
But, with the upcoming release of the Battlestar Galactica Piano Book, I know now that there was a purpose to all those childhood years at the piano.
Bear McCreary's music has always been one of the highlights of the Battlestar Galactica television series. The music is full of exotic instruments, full orchestrations, and large rhythmic sections. Not, something that would be easily arranged for the piano, but since Bear is doing the arrangement himself, it should be interesting to see how it is.
From Bear's blog:
Very few soundtrack piano books were arranged by the original composer, but I wanted to ensure the ideal translation from orchestral score to solo piano, so I personally arranged each selection. I'm too much of a perfectionist to let anybody else do this!
Here's the song list:
Allegro
Apocalypse
Battlestar Muzaktica
Battlestar Operatica (soprano and piano)
Battlestar Sonatica
Dreilide Thrace Sonata No. 1
Elegy
Kara Remembers (1 piano, 4 hands)
Passacaglia
Pegasus
Prelude to War
A Promise to Return
Resurrection Hub
Roslin and Adama
The Shape of Things to Come
Something Dark Is Coming
Violence and Variations
Wander My Friends
Worthy of Survival
BONUS ARRANGEMENTS:
Roslin and Adama (Simplified Version)
Wander My Friends (Simplified Version)
Pre-order the Battlestar Galactica Piano Book at Amazon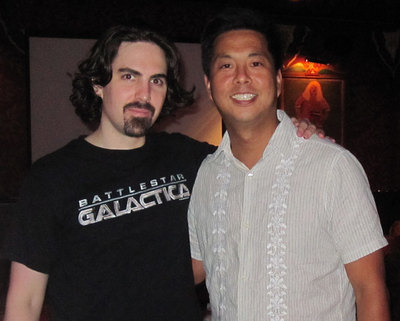 Here's a picture of Bear McCreary and I from 2009 at his concert at the House of Blues during Comic-Con.