Concert:Nova
is performing this Tuesday night, February 5th. 2008, 8:00 pm, Below Zero Lounge, 1122 Walnut Street, Cincinnati, OH 45202, 513-421-ZERO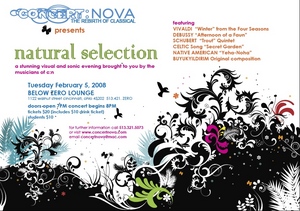 At the Shell gas station on Liberty in Over the Rhine, you'll hear classical music piped over the speakers, not to entertain patrons like me, but as an audible youth repellent. Classical music hasn't met the changing times and the audiences continue to grow older and older.
But, Concert:Nova, a new dynamic ensemble group changes that. Cool and fresh, Concert:Nova fuses the classical with the contemporary that rejuvenates the art form. Performed in a non-traditional setting, with unique visual twists, Concert:Nova is a fun, relaxed, hip evening of music that is a much needed expansion of the musical scene in Cincinnati.
Concert:Nova is the creation of Ixi Chen, a clarinetist in the Cincinnati Symphony Orchestra. She has assembled a highly talented group of musicians from the Cincinnati Symphony and Chamber Orchestra. The choice of instrumentation in the pieces are unique and fun. Instead of a traditional lead musician playing a violin, you'll hear it in the flute or even a trombone. The advantage of a small ensemble performance is that you can truly hear the beauty in the music and the expertise of the performers. At the symphony, you're separated farther from the performers and with so many musicians it's harder to appreciate the individual skills of the players. But, in an intimate setting, you can see the musicians draw their breath and phrase as they feel the music that they're performing.
Concert:Nova also seeks to bring talented new musicians to town. In their last performance on December 3, 2007, Nico Abondolo, Double bass, and Nadine Sierra, a soprano were the featured guest soloists.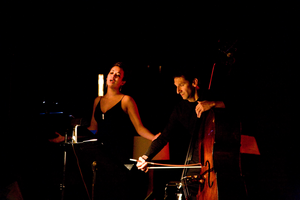 Nadine Sierra is an up and coming 19 year old soprano. Recently reviewed in the NYTimes, they described her as:
"Already she possesses something that can hardly be taught: a commanding stage presence, complete with flashing eyes, a winning smile and unmannered gestures."
Seeing her perform up close you could see her power and her beauty. I believe that the next time she comes to town she'll be performing on a much bigger stage.
Nico Abondolo brought humor and a human face to music. Nico spoke a bit about his experiences performing in many motion picture soundtracks in film. Nico brought the house down with his performance of a very non-traditional piece called "Failing: a very difficult piece for solo bass".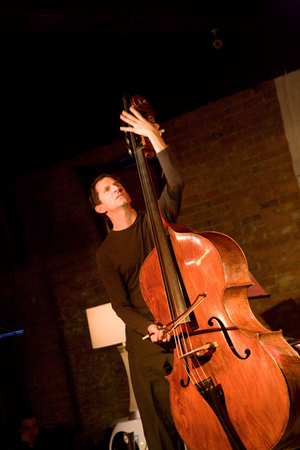 Concert:Nova closed the performance with Herbie Hancock's "Watermelon Man". Truly a great night of music.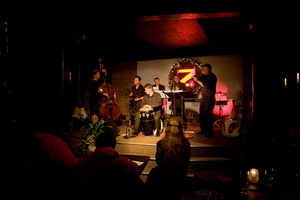 I'd tell you to go to see Concert:Nova to support Cincinnati music, but that would be selling Concert:Nova short. You should go because it's great a blend of music performed by world class musicians in a jazz like environment. What more could you ask for?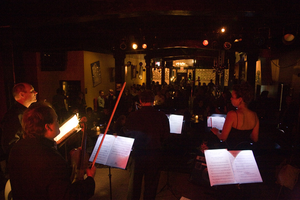 All concert images copyright Concert:Nova. Used with permission.