Just picked up an Entertainment 2010 Coupon book that my orchestra, the Cincinnati Community Orchestra is selling as a fundraiser.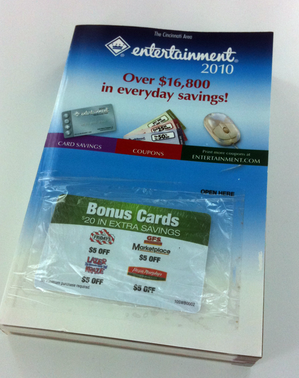 If you dine out at all, it's definitely worth the cost. Especially if you like Indian restaurants like I do. It seems that every Indian restaurant in Cincinnati is in there- Ambar, Baba, Apna, Amol, and quite a few more more are all in there with a buy one entree, get one free. There are other restaurants like Teller's, Nicola's, and Aqua that I'll definitely use.
The book also contains coupons for fast food, dry cleaning, events, and merchandise. I'll be keeping a running log of the coupons that I use below. My girlfriend and I dine out a bit anyways, so it'll be interesting to see (at least for me) how much I use it.
If you buy the book from the link below, and use the Group ID 423630, the cost will be $20 + $5.00 shipping which is a $10 dollar discount over the normal $35.00 retail price. Plus the Cincinnati Community Orchestra will benefit from each sale to help pay for music rentals, etc.
Entertainment Coupon 2010 Useage:
Dining
Nicola's– $20 off an entree. Nicola's is pricey but very good. $20 off pretty much takes care of the tip on a dinner for two. Yeah, Nicola's not the best example of saving money, but since I was planning on going some time, it's better to have a discount than not.