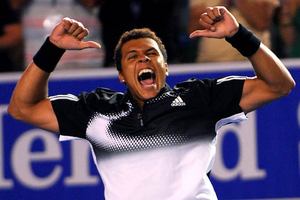 Jo-Wilfried Tsonga. A name I had never heard of before this year's
Australian Open
and a name I won't soon forget. Not after watching some of his
destruction of Rafael Nadal
, the world's second ranked player last night at the
Australian Open
. Tsonga reaches a Grand Slam final in only the 5th Grand Slam that he's played in.
Much has been made in the tennis media about his likeness to a young Muhammad Ali and you can certainly see why in this picture.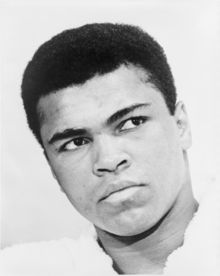 But this similarity extends beyond just his physical appearance. Tsonga moves with a lightness and quickness combined with powerful strokes that is the embodiment of the famous Ali quote "Float like a butterfly, sting like a bee."
For a tennis comparison, I think he reminds me of Pete Sampras and current champion Roger Federer. It's the same smoothness and natural ability that reminds me of the two greatest players of all time. We'll see if he has the mental toughness to become a champion on the ATP tour.
It's probably too soon to crown Tsonga as the future of tennis, especially just watching him play one match. But, he was really that impressive. However, great talents come every now and then that don't achieve the long term greatness predicted of them (Marat Safin). But we'll get the opportunity to see soon enough to see if the future is now as he'll get the opportunity to face Federer or Novak Djokovic in the Australian Open finals.