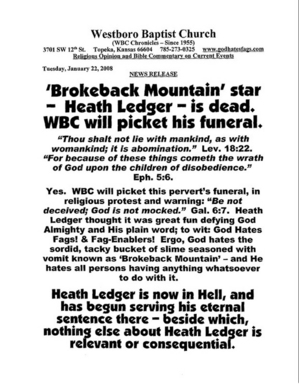 Here's a press release I found on WWTDD
I hope they have the funeral in Australia, Heath Ledger's home country. The members of the Westboro Baptist Church could stand to get outside of their little world. But, I don't think that the Aussies will take too kindly to them showing up.
This just shows you don't have to go too far to find radical extremism.
Oh, and what about "love thy neighbor"?
Leviticus 19:18 Thou shalt not avenge, nor bear any grudge against the children of thy people, but thou shalt love thy neighbour as thyself: I am the LORD.