I saw this banner ad and I had to check the news to see if Lieberman was actually announced as McCain's VP.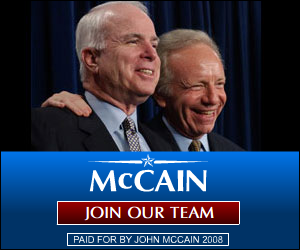 Nope. Not yet. But he might as well lobby for the job since it looks like he's burnt his last bridge with the Democrats. It's amazing to think that Lieberman could have been finishing his second term as a Al Gore's Vice President, as well as being on his way to becoming President as many VP's have become.
From NewHavenRegister.com: EDITORIAL: Lieberman makes final break with Dems
Lieberman, 66, has another four years in his Senate term. If he were up for re-election today, he would likely be swept away by the state's strong antiwar sentiment. Voters did not elect him to campaign for a Republican president.