I'm starting a new category called "Art under my bed". I've been collecting art prints for several years now, mostly Shepard Fairey prints, but also of various other artists. Because framing the prints is much costlier than the prints themselves, I am placing them for now in a flat portfolio under my bed, a place where no one will ever see them. Until now. I thought that I would start showing off my collection- a little museum from under my bed. I do plan to frame a lot of them over time or trade some of the pieces for others that I want.

Here's my latest piece. Shepard Fairey's Compassion (His Holiness The Dalai Lama) print. This is something new, a silkscreen, not an offset print based on one of his larger stencil collages.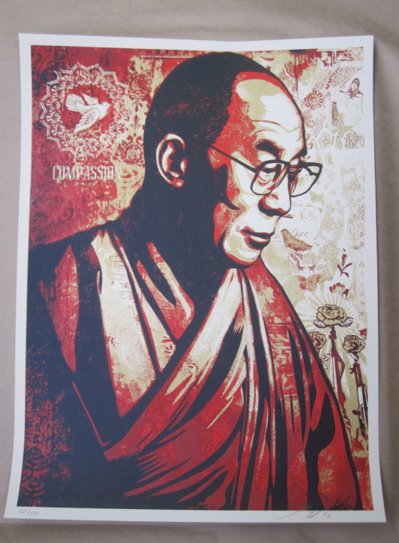 The closeup detail is pretty amazing. It's definitely one of the best Shepard Fairey pieces in a while. I think I'll try to get this one onto the wall sooner, rather than later.