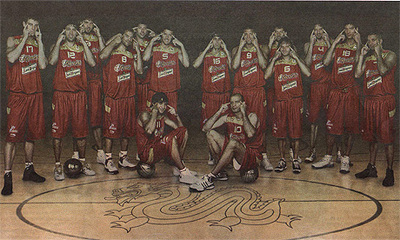 From Guardian.co.uk: Olympics: Spain's eye-catching faux pas
Spain's Olympic basketball teams have risked upsetting their Chinese hosts by posing for a pre-Games advert making slit-eyed gestures. The advert for a courier company, which is an official sponsor of the Spanish Basketball Federation, occupied a full page in the sports daily Marca, the country's best-selling newspaper.
Ah, this brings up some not so fond memories of my youth growing up Asian in the United States. I can tell you one thing from the experience, the pulling of your eyes into a slant isn't a universal sign of friendship or goodwill.
UPDATE 8/13/08:
From NYTimes.com: I.O.C. Calls Photo of Spanish Teams 'Clearly Inappropriate'