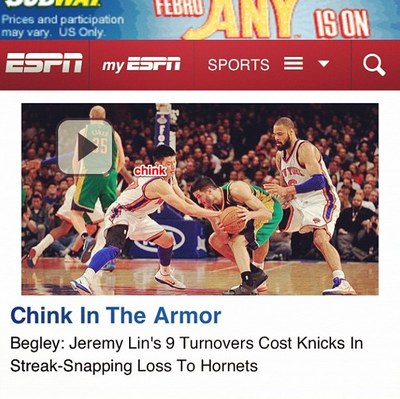 IBT.com: Jeremy Lin, New York Knicks 'Chink in the Armor': ESPN Apologizes
Asian-American sensation Jeremy Lin of the New York Knicks has arguably received more than his share of accolades in the past two weeks, bursting on the scene as an NBA star and gaining attention throughout the world.
But after the New Orleans Hornets ended the New York's seven-game winning streak, ESPN.com took a dig at Lin, using the headline "Chink in the Armor" on its mobile sites. The headline, accompanying a photo of Lin, was distributed to ESPN.com's mobile users.
"Chink" is the fighting word for any one of Taiwanese or Chinese decent. Unfortunately, it's also one that I experienced most growing up. It's absolutely shocking to me that it made it into a headline on ESPN.