From NYTimes.com: Never Too Young for That First Pedicure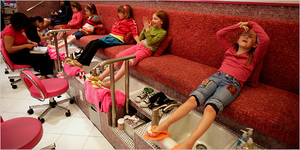 But today, cosmetic companies and retailers increasingly aim their sophisticated products and service packages squarely at 6- to 9-year-olds, who are being transformed into savvy beauty consumers before they're out of elementary school.
There's something seriously wrong with placing such importance in beauty and fashion with 6-9 year olds. There are more important lessons to be learned in life than this.