I've lived in Cincinnati most of my life and I finally made it to The Cone in West Chester. I've driven by the distinctive ice cream cone shaped building many times, but when I'm actually in the mood for ice cream, The Cone always seemed too out of the way. But, tonight after dinner in the Union Centre area we decided to make a trip over.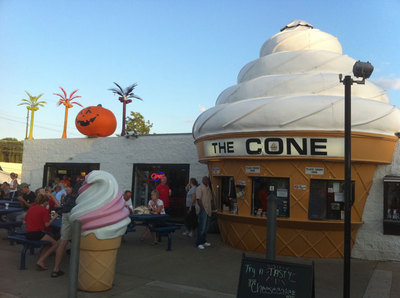 It was a busy night at The Cone with a large gathering of people enjoying ice cream at the outdoor tables. After looking at the extensive menu of sundaes and dipped cones, I opted for something simple, a large cone with a vanilla/strawberry swirl.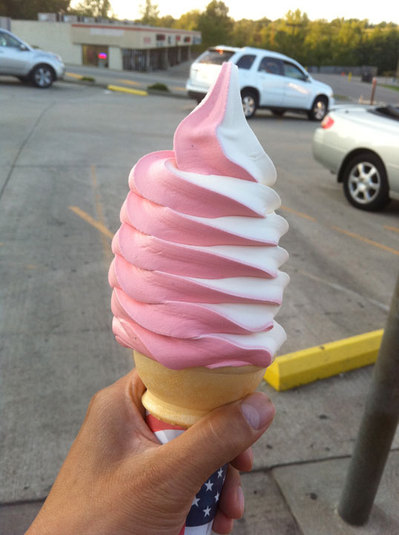 This is the best tasting soft serve ice cream that I've had in Cincinnati. The strawberry was much more natural tasting than what you would expect for soft serve. It even had little specks of strawberry in it! My expectations for soft serve are pretty low because in my experience, it's served out of convenience rather than taste.
But, even though the ice cream was great, the large cone is still a little more ice cream than what I needed. I got taken in by the .50 cent up sell from the small.
The dipped cones came in all sorts of interesting colors. We saw a girl eating a dipped cone with electric blue "magic" shell. It's a favorite of the kids, but a nightmare for clothing and car seats.
If you're in West Chester, definitely stop by the The Cone. I know that I'll by stopping by again in the future.