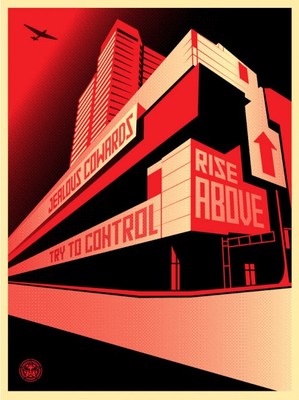 Shepard Fairey's Supply and Demand Exhibition is here in Cincinnati! Opening Friday, February 19, 2010 and running through August 22 at the Cincinnati Contemporary Art Center. This is the third stop for this exhibition after the ICA in Boston and the Warhol Museum in Pittsburgh. The opening party is tonight at 8:00 PM and features Shepard Fairey as a DJ for a set.
I've been a fan of Shepard Fairey ever since I saw the iconic Obama Hope image and have become quite a collector of his print works.
Some of the highlights of the exhibition will be his large murals and his fine art collages.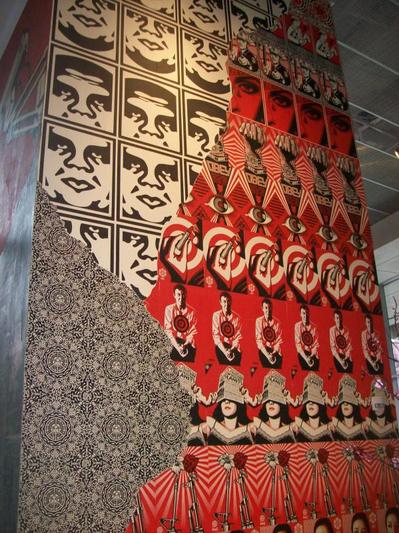 In addition to the ones at the CAC, there are several outdoor installations in the city.
The Hope image below is one of his fine art pieces where Shepard Fairey creates a collage and then spray paints it using stencils. These pieces now cost thousands of dollars. Good thing there are the screened prints that have remained affordable at $40-50 dollars a piece with print runs of around 450 pieces.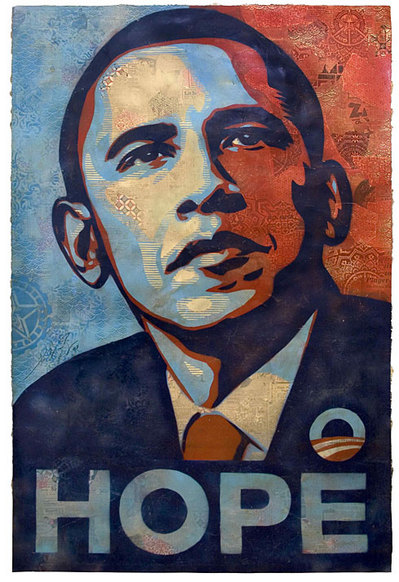 If you're new to Shepard Fairey, here are some essential links:
ObeyGiant.com– Shepard Fairey's site. Buy his latest prints here. But, be quick, popular images usually will sell out within minutes of their release. Check out the print archives for all of Shepard Fairey's works.
TheGiant.org– The forum is where I get all my Shepard Fairey news. You have to register to see the main forums. So many knowledgeable collectors congregate here. TheGiant.org also has an amazing print database of all of Shepard Fairey's works.
Expressobeans.com– Use this site to track the resale value of posters/print art. Great place to see how much your piece is worth on the aftermarket.
Duckywaddles.com– If prints sell out at ObeyGiant.com, sometimes a few "artist proofs" are released here. You can buy other older Obey prints here too.
OBEY: Supply & Demand – The Art of Shepard Fairey – 20th Anniversary Edition
– I highly recommend this book. It's a beautiful coffee table book the traces the history of Shepard Fairey. Lots of great pictures of his collages and fine art pieces.